REPORT OF TREDING NEWS IN NIGERIA.
BUSINESS AND INVESTMENT NEWS.
Investment opportunity in rice to boost our youth
employment created by Agribusiness firm in Nigeria.
The Chief Executive Officer, Santuscom Agro Hub, an Agribusiness firm, Mr Ofana Paul, says Ogoja Rice Investment Opportunity (ORIO) will create employment for Nigerian youths.
Paul said this in a statement signed on Monday in Abuja by Mr Ebriku Friday, the Media Consultant to the firm.
According to him, the Ogoja Rice investment Opportunity will create wealth, boost food production,
and provide employment opportunities for the teeming youth in Nigeria.
Paul said ORIO came at this time that there was a need to reposition the agricultural sector,
which had opportunities for potential investors including existing agribusiness and corporate
organizations to create wealth with promising investment plans.
He said that Ogoja rice had been a popular rice brand in the Nigerian market and
had controlled of about 70 per cent of market share in Cross River State and the entire
South-South geo-political zone.
Paul said that because of the uniqueness of the rice, there had been an increase in demand,
which had led to expansion plans across the country and West African sub-region.
He said that Ogoja rice was in the long-grain class and had high vitamin content,
adding that the rice was 100 per cent stone-free and being cultivated on a 1,000 hectare of rice field in Ogoja.
Paul said that the Santuscom Agro Park rice mill had a processing capacity of 30 tone's per day.
He invited individual and corporate organizations to be a part-owner of Ogoja Rice,
by investing in the firm for an attractive return on their investments,
saying their investment is safe and guaranteed.
'We are strong, reliable and well known in the market and we have a strategic
plan to dominate the market with a sustained increase in production capacity.
'According to President, African Development Bank (AfDB),
Dr Akinwumi Adesina, by 2030, the size of the food and agribusiness
in Africa will reach 1 trillion dollars.
'Our plan of investment is simple and flexible and based on integrity,
accountability and transparency because our business principle presents a 'win-win' situation.
'The breakdown of the investment opportunity for those who are
interested is Platinum: N20 million; Diamond: N15 million; Gold: N10 million;
and Silver: N5 million and above, with 40 per cent return on investment after six months.
'Interested investors should log on to www.kleenfarmer.com to fill the
form online or visit our Ogoja or Abuja offices to obtain their forms and make further enquiries,' he said.
Paul said that Santuscom Agro Hub, Group General Manager, Mr Michael Emaluji,
had assured that all investors and investments would be provided with insurance
cover for the period of investment.
He said the company was already working towards signing a
Memorandum of Understanding (MoU) with Lead way Assurance Company Limited.
Paul said that investors would be invited to witness the official signing of the MoU,
adding that all arrangements would soon be concluded in that regard to
guarantee the safety of their investments.
'The partnership deal with Lead way Assurance Company Limited is to insure
all investments, which will go a long way to boost investors' confidence and
guarantee the return on their investment,' he said.
Investors stake N23.6bn on 1.45bn shares.
Negative sentiments took precedence in Nigeria's stock market
despite the further easing of the lockdown in the country,
amid persistent increases in daily coronavirus cases.
This was even as investors traded 1.469 billion shares worth N23.553 billion in 22,911 deals,
in contrast to a total of 1.255 billion shares valued at N13.501 billion that exchanged hands in
20,554 deals the previous week.
Also, the NSE All-Share Index (ASI) and market capitalization both depreciated by 1.00 and 0.90 per cent to close the week at 25,016.30 and N13.050 trillion respectively. Market analysts said the performance was due to profit taking by investors after most of the stocks gained significantly the previous week. "In our opinion, risks remain on the horizon due to a combination of the increasing number of COVID-19 cases in Nigeria and weak economic conditions.
Thus, we continue to advise investors to trade cautiously and seek trading opportunities in only fundamentally justified stocks", Cordros Capital said.
Analysts at Afrinvest, on their part, said: "We expect to see profit-taking activities in early trades next week but overall, we expect a mixed performance".
Further analysis showed that the general performance was broadly negative, as losses in the Banking (-3.7 per cent), Oil and Gas (-0.7 per cent) and Consumer Goods (-0.4 per cent) sectors outweighed the positive performances in the Insurance (+2.4 per cent) and Industrial Goods (+1.6 per cent) sectors.
Meanwhile, the Financial Services industry (measured by volume) led the activity chart with 861.775 million shares valued at N8.545 billion traded in 11,647 deals; thus contributing 58.66 and 36.28 per cent to the total equity turnover volume and value respectively.
The Consumer Goods industry followed with 184.644 million shares worth N5.880 billion in 3,953 deals while the Services industry, recorded a turnover of 119.238 million shares worth N270.084 million in 1,043 deals.
CBN TO APPROVE LONES AFTER 48 HOURS DEW TO
COVID-19
The Central Bank of Nigeria has said all successful applicants that have submitted their account details for the COVID-19 Targeted Credit Facility should expect to be credited within 48 hours.
The Director, Corporate Communications of CBN, Isaac Okorafor, disclosed this in a statement on Monday.
The applicants are households and small and medium enterprises hard hit by the COVID-19 pandemic, according to the CBN,
Okoroafor advised all successful applicants whose accounts had not been credited to visit the website of NIRSAL Microfinance Bank and input their account details.
He said "any successful applicant that does not receive a credit alert within 48 hours" should call for resolution.
He noted that the CBN had waived the requirements for the provision of guarantors by households and small and medium enterprises applying for the facility worth N50bn.
Okorafor said the bank's move was meant to assuage the concerns of those who had fulfilled all requirements for the loan but were yet to have their accounts credited, particularly as other persons had begun to receive credit alerts.
He reiterated that the palliatives being disbursed were loans and should not be taken as grants.
The apex bank's spokesman urged eligible households and small businesses to take advantage of the palliative to revive their businesses and contribute to steering Nigeria away from recession.
The CBN had on March 23 unveiled guidelines for the implementation of the N50bn Targeted Credit Facility as a stimulus package to support households and micro, small and medium enterprises hit by the COVID-19 pandemic.
Based on the CBN guidelines, eligible beneficiaries of the fund are households with verifiable evidence of livelihood, adversely impacted by COVID-19, and existing enterprises with verifiable evidence of activities, adversely affected by the pandemic.
NSE market indices resume week with 0.93% gain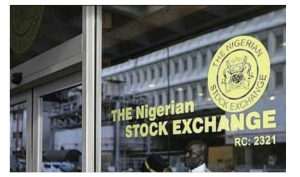 The nation's bourse re-opened trading for the week on Monday on a positive trend, growing by 0.93 per cent due to price appreciation in high capitalised stocks. Specifically, the All-Share Index inched higher by 233.66 points to close at 25,249.96, against 25,016.30 on Friday. Similarly, the market capitalisation rose by N122 billion to close at N13.171 trillion, compared with 13.049 trillion achieved on Friday. The uptrend was impacted by gains recorded in large and medium capitalised stocks, amongst which are; MTN Nigeria, BUA Cement, Nigerian Breweries, UACN and Vitafoam. Analysts at Afrinvest Limited expect a mixed performance for the week as the market presents opportunities for bargain hunting and profit taking. Market sentiment, as measured by market breadth, closed positive with 31 gainers and 11 decliners. A breakdown of the price movement table indicates that Wapic Insurance led the gainers' chart in percentage terms, gaining 10 per cent, to close at 33k per share. Fidson followed with 9.80 per cent to close at N3.25, while Associated Bus Company rose by 9.76 per cent to close at 45k per share. Neimeth grew by 9.60 per cent, to close at N1.94, while Consolidated Hallmark appreciated by 9.52 per cent to close at 46k per share. READ ALSO: NSE market indices sustain negative posture, down 0.75% Conversely, Japaul Oil dominated the decliners' chart in percentage terms, dropping 10 per cent, to close at 27k per share. Cornerstone Assurance trailed with 9.09 per cent to close at 50k, while Chams declined by 7.41 per cent to close at 25k per share. Transcorp lost 5.19 per cent to close at 73k, while Coulterville Business Solutions shed 4.76 per cent to close at 20k per share. The total volume of shares traded increased by 7.46 per cent with an exchange of 230.49 million shares valued at N2.17 billion in 4,621 deals. This was in contrast with 214.49 million shares worth N2.51 billion transacted in 4,342 deals on Friday. Transactions in the shares of FBN Holdings topped the activity chart with 34.50 million shares valued at N188.35 million. Guaranty Trust Bank followed with 22.88 million shares worth N550.14 million, while Japaul Oil accounted for 21.21 million shares valued at N6.37 million. United Bank for Africa traded 19.54 million shares worth N131.95 million, while Zenith Bank transacted 19.27 million shares valued at N327.06 million. (NAN) VANGUARD
Pandemic Shock: Global economy to shrink by 5.2% – World Bank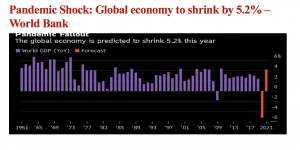 The World Bank has projected that the global economy will shrink by 5.2 per cent this year as a result of "swift and massive shock" of the COVID- 19 pandemic.
According to the Bank, that would represent the 'deepest recession since the Second World War, with the largest fraction of economies experiencing declines in per capita output since 1870.'
This is contained in the World Bank's June 2020 Global Economic Prospects, which also states that 'the swift and massive shock of the coronavirus pandemic and shutdown measures to contain it have plunged the global economy into a severe contraction.'
The Bank further pointed out that 'economic activity among advanced economies is anticipated to shrink 7 per cent in 2020 as domestic demand and supply, trade, and finance have been severely disrupted.
'Emerging market and developing economies (EMDEs) are expected to shrink by 2.5 per cent this year, their first contraction as a group in at least sixty years. Per capita incomes are expected to decline by 3.6 per cent, which will tip millions of people into extreme poverty this year.'
Continuing, it said 'the blow is hitting hardest in countries where the pandemic has been the most severe and where there is a heavy reliance on global trade, tourism, commodity exports, and external financing.
'While the magnitude of disruption will vary from region to region, all EMDEs have vulnerabilities that are magnified by external shocks.
'Moreover, interruptions in schooling and primary healthcare access are likely to have lasting impacts on human capital development.
Nigeria records 663 new cases of COVID-19, highest daily infections – NCDC
Nigeria has recorded its highest daily COVID-19 infections with 663 new cases.
The Nigeria Center For Disease Control(NCDC) said, this brings the total number of infections in the country to 13,464.
The NCDC announced this on Tuesday through its official Twitter handle and said that as at June 9, four deaths were recorded in the country.
The News Agency of Nigeria(NAN), reports that the health agency said that Lagos State recorded the highest number of infections for the day with 170 cases while Ogun and Bauchi had 108 and 69 cases respectively.
The NCDC said that the new cases showed that Ebonyi State had 49 infections, Edo (33), Rivers (30), FCT (29), Jigawa (26) and Delta (20).
Amongst others were Anambra (17), Gombe (16), Kano (16), Imo (15), Abia (14), Borno (11), Oyo (11), Plateau (8), Kebbi (6), Kaduna (6), Ondo (4).
Niger and Katsina had two cases each while Osun, Ekiti, Kwara and Nasarawa recorded one case each.
The health agency said that till date, 13,464 cases had been confirmed out of which 8893 were active cases, 4206 cases treated and discharged and 365 deaths recorded in 35 states and the Federal Capital Territory.
NAN reports that the agency had activated three additional laboratories in the country, bringing the total number of laboratories that could carry out PCR testing for coronavirus disease in Nigeria to 33.
The health agency said it had stayed on track, in its goal to rapidly scale up laboratory testing for COVID-19 in Nigeria.
The NCDC stated that the three new laboratories were Bio repository and Clinical Virology Laboratory UCH, Ibadan, Oyo , Molecular Diagnostics Laboratory, Infectious Disease Unit, General Hospital, Ituk Mkpang, Akwa-Ibom and Jigawa State Molecular Laboratory, Dutse. (NAN)
Buhari hails Osinbajo-led economic sustainability
committee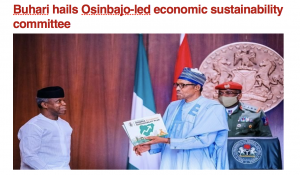 President Muhammadu Buhari has described the work of the Osinbajo led-Economic Sustainability Committee (ESC) as a "National Plan," while stating that the administration is focused on implementing its recommendations, which includes massive Federal Government support for local production, manufacturing, significant support for the informal sector and MSMEs and the expansion of the Social Investment Programme to provide succour to more Nigerians.
"I'm pleased to hear that the Economic Sustainability Committee consulted with all the National Economic Councils and the National Assembly, and I look forward to our continued partnership with one focus to implement what I consider a national plan," the President noted.
While congratulating the Osinbajo-led Committee for completing this critical national assignment in good time, President Buhari said the focus of the Plan would help stimulate the economy, while also creating millions of jobs especially for youths through massive programmes in the agriculture and agro-allied sectors, and other sectors of the economy.
The President stated this on Thursday at the Council Chambers when he received the ESC's plan entitled "Bouncing Back: The Nigerian Economic Sustainability Plan."  The Vice President said the Committee was motivated by President Buhari's "directive to come up with a Plan that would to provide succour to Nigerians, taking into account the dangers posed to the economy by the global economic slowdown, which also resulted in a drastic fall in crude oil production and prices, with serious implications for government revenues and foreign exchange earnings."
Osinbajo was asked by Mr. President to chair the ESC to develop a clear Economic Sustainability Plan in response to challenges posed by the COVID-19 pandemic. Since then, the VP has chaired several meetings with members of the Committee, National Assembly leadership, State Governors, the Presidential Economic Advisory Council (EAC), among others.
Speaking after receiving the ESC plan from the VP, President Buhari said the Committee was established because "during these uncertain times, the government saw the need to act quickly and avert the worst; while government continues to seek ways of supporting businesses and industry.
The President added that the administration is determined "to support business especially sectors facing difficulty as the effect of the COVID-19 pandemic and the resultant socio-economic lockdown", while it focuses on implementing the recommendations of the national plan. The President stated that the recommendations in the plan would help in developing "a truly competitive economy that can support our people and secure our future."
"I congratulate the Economic Sustainability Committee for completing this critical national assignment in good time," he added.
He also commended Nigerians for their resilience in adapting to the COVID-19 pandemic, as well as the efforts of health workers whom he said, "continue to play critical role in keeping our country safe."
Speaking on the plan presented to the President, VP Osinbajo stated that, "We are confident that if the proposals are taken as a whole and implemented conscientiously, Nigeria will avert the worst of the impending economic headwinds, and covert this crisis to a victory for the Nigerian economy."
The VP noted that the Committee decided on a strategy hinged on President Buhari's mantra to "produce what we eat and consume what we produce".
Prof. Osinbajo added, "In other words, to create millions of new jobs, we need to focus on encouraging local production, local services, local innovation, and emphasize the use of local materials. Nigeria and Nigerians can produce our food, build our houses and construct our roads, using local materials in all cases. If we must import, it must be to support local production. We have therefore recommended that we must carry out mass programmes that create jobs and utilize local materials."
Major highlights and recommendations of the Osinbajo ESC plan include:
Strategy hinged on Mr. President's mantra to "produce what we eat and consume what we produce". In other words, to create millions of new jobs, we need to focus on encouraging local production, local services, local innovation, and emphasize the use of local materials
A Mass Agricultural Programme; which is expected to bring between 20,000 and 100,000 hectares of new farmland under cultivation in every State of the Federation and create millions of direct and indirect job opportunities.
Extensive Public Works and Road Construction Programme focusing on both major and rural roads and using locally available materials like limestone, cement and granite.
Mass Housing Programme to deliver up to 300,000 homes annually, engaging young professionals and artisans who form themselves into small and medium scale businesses within the construction industry, using indigenous labour and materials.
Installation of Solar Home System, targeting 5 million households, serving about 25 million individual Nigerians who are currently not connected to the National Grid. Support for local production and manufacturing of all that is possible, including tech apps, software, shoes, garments, steel fabrication, ceramics and furniture, with the required capital and essential machinery.
The provision of ample support for the informal sector through low interest loans and by easing procedures for registration, licensing, obtaining permits, etc. By these means, urban and informal business people like mechanics, tailors, artisans, and petty traders, will be encouraged to improve and develop their services.
Support for MSMEs, especially in assisting to restructure their loans with banks. Among others, this will assist businesses in the pharmaceutical, aviation, hotels and the hospitality industry, private schools, road transportation, technology companies, and the creative industry, amongst others.
Facilitation of broadband connectivity across the country and creation of a wide variety of technology and ICT jobs.
Expansion of the Social Investment Programme, through an increase in the number of cash transfer beneficiaries, N-Power volunteers and sundry traders enjoying small and micro loans through the MarketMoni and TraderMoni schemes. The pre-existing conditional cash transfer will also be extended to cover a larger number of the extremely poor.
NIGERIAN ECONOMY UPDATE. NEWS SOURCE THISDAYNEWS PAPER.
The economy expanded by 1.87 per cent in real terms during first quarter of this fiscal year, but the growth was not without pains as the COVID-19 pandemic has taken its toll on growth with Gross Domestic Product (GDP) declining by –0.68 percent quarter on quarter and -0.23 percent compared to the figure recorded in first quarter of 2019. Going by the dwindling economic activities recorded in the first quarter, economic pundits are predicting a steeper drop in growth for 2020. Bamidele Famoofo reports
The GDP growth of 1.87 per cent, which Nigeria recorded in first quarter of 2020, apparently, is a not an indication that all is well with the economy. In the first instance, the growth was lower by -0.68 per cent compared to the figure in last quarter of 2019 and -0.23 per cent less than the figure in first quarter of 2019.
A report on the performance of the nation's GDP in first quarter released by the National Bureau of Statistics (NBS) showed that the COVID-19 pandemic has started taking its toll on major economic sectors of the economy, which recorded negative growth compared with Q4, 2019 performances. 
There have been projections that the economy will not grow in the on-going fiscal year by economic experts with some touting a recession. For instance, the International Monetary Fund (IMF), which earlier in the year predicted that Nigeria's economy will expand by 2.5 per cent, recently recanted, saying growth could slide by 3.4 percent or N4.95trillion by the end of the year.
Besides, the Nigerian Economic Summit Group (NESG) submitted recently that GDP will decline by 4.1 percent in 2020. The projection of the economic think tank group was based on an average oil price of $35 per barrel and 1.3 million barrel per day production. NESG also said investment will drop by 39.4 percent in 2020 as government dedicate more of its scarce resources to providing palliatives to cushion the impact of the pandemic on Nigerians. The group said contraction of the GDP will be largely dependent on expected slow growths in key economic sectors like Agriculture, Manufacturing, Oil & Gas and Trade.
Government revenue is expected to drop by 40 per cent while inflation journeys towards the 15 per cent mark.
Q1 Performance Review
According to NBS, GDP grew by 1.87 percent (year-on-year) in real terms in the first quarter of 2020. "This performance was recorded against the backdrop of significant global disruptions resulting from the COVID-19 public health crisis, a sharp fall in oil prices and restricted international trade. The performance recorded in Q1 2020 represents a drop of –0.23per cent points compared to Q1 2019 and –0.68per cent points compared to Q4 2019, reflecting the earliest effects of the disruption, particularly on the non-oil economy."
Quarter on quarter, real GDP growth was –14.27 per cent compared to 5.59 per cent recorded in the preceding quarter.
In the quarter under review, aggregate GDP stood at N35,647,406.08 million in nominal terms. This performance was higher when compared to the first quarter of 2019 which recorded N31, 824,349.67 million, with a nominal growth rate of 12.01 per cent year on year. Relative to the first quarter of 2019, the nominal growth rate was higher by 0.11 per cent points but lower than the preceding quarter by –0.32 percent points. For better clarity, the Nigerian economy has been classified broadly into the oil and non-oil sectors.
Performance by Sectors
During the first quarter of 2020, an average daily oil production of 2.07 million barrels per day (mbpd) was recorded. The production level was higher than the 1.99mbpd recorded in the same quarter of 2019 by 0.08mbpd and the fourth quarter of 2019 by 0.06mbpd. The oil sector recorded a real growth rate of 5.06 per cent (year-on-year) in Q1 2020 indicating an increase of
6.51 per cent points relative to the rate recorded in the corresponding quarter of 2019. However, growth decreased by –1.30 percentage points when compared to Q4 2019 which was 6.36 per cent. Quarter-on-quarter, the oil sector recorded a growth rate of 11.30 per cent in Q1 2020. The oil sector contributed 9.50 per cent to aggregate real GDP in Q1 2020, up from figures recorded in the corresponding period of 2019 and the preceding quarter, as the share of the non-oil economy declined.
The non-oil sector grew by 1.55 per cent in real terms during the reference quarter (Q1 2020). This was slower by –0.93 per cent points compared to the rate recorded during the same quarter of 2019, and –0.72 per cent points slower than the fourth quarter of 2019. The non-oil sector was driven mainly by Information and Communication (Telecommunications), Financial and Insurance (Financial Institutions), Agriculture (Crop Production), Mining and Quarrying (Crude Petroleum & Natural Gas), and Construction. In real terms, the Non-Oil sector contributed 90.50 percent to the nation's GDP in the first quarter of 2020, less than its share in the first quarter of 2019 which was 90.78 percent and the fourth quarter of 2019 recorded as 92.68 per cent. Activities that witnessed weaker performance relative to Q1 2019 include quarrying, road transport, accommodation and food services as well as real estate.
The mining & quarrying sector grew nominally by –10.57 percent (year on year) in Q1 2020. Metal ore exhibited the highest growth rate of all the sub activities at 8.72 per cent followed by crude petroleum and natural gas activity
at -10.20 percent. However, crude petroleum and natural gas was the main contributor to the sector with a weight of 99.51 per cent in Q1 2020. Compared to Q1 2019, the performance in Q1 2020 represents an increase of 8.75 per cent points, but a decline of –23.31 per cent points when compared to Q4 2019. The sector contributed 7.97 per cent to overall GDP in the first quarter of 2020, lower than the contributions recorded in 2019 first quarter at 9.98 per cent but higher than the previous quarter recorded at 6.86 per cent.
The Agriculture sector grew by 22.47 per cent year-on-year in nominal terms in Q1 2020, showing a decline of –0.11 percent points from the same quarter in 2019. Comparing with the preceding quarter's growth rate of 13.80 percent indicates an increase of 8.66 per cent points. Crop Production remained the major driver of the sector, as it accounts for 90.54 per cent of overall nominal growth of the sector in the first quarter of 2020. Quarter on quarter growth stood at –19.58 per cent in Q1 2020. Agriculture contributed 20.88 percent to nominal GDP in the first quarter of 2020, higher than the rates recorded for the first quarter of 2019 but lower than Q4 2019 which recorded 19.10 percent and 23.38 percent respectively.
Nominal GDP growth of the manufacturing sector in the first quarter of 2020 was recorded at 28.47 per cent (year-on-year), or -7.97 per cent points lower than figures recorded in the corresponding period of 2019 (36.45per cent) but 2.18 per cent points higher than the preceding quarter's rate of 26.29 per cent. Quarter on quarter, growth of the sector was recorded at 2.84 percent.
The contribution of the manufacturing sector to nominal GDP in the first quarter of 2020 was 12.98 per cent, higher than the share recorded in the corresponding period of 2019 at 11.31 per cent as well as the fourth quarter of 2019 at 11.37 per cent.
Real GDP growth in the manufacturing sector in the first quarter of 2020 was 0.43 per cent (year on year), lower than the same quarter of 2019 as well as the preceding quarter by –0.38per cent points and –0.81 per cent points
Respectively. Growth rate of the sector, on a quarter-on-quarter basis, stood at –5.38 per cent, lower than the quarter on quarter growth rate recorded in the preceding quarter of 2019. Real contribution to GDP in 2020 first quarter was 9.65 per cent, lower than the 9.79 per cent recorded in first quarter of 2019 but higher than the 8.74 per cent recorded in Q4 2019.
NIGERIAN INCESSANT BORROWING AND THE IMPACT ON ITS ECONOMY.
Nigerian businesses are facing enormous challenges due to macroeconomic issues. While sustaining its recovery from the 2016 recession, the Nigerian economy grew by 2.3% in 2019. This growth appears quite inadequate when compared to the annual population growth of between 2.6% and 3%. Against the background of a challenging economic and business environment, Nigerian businesses have some key risks that they face in the course of their operations. The outbreak of the coronavirus pandemic has exacerbated some of the risks that these businesses face. Prior to the coronavirus outbreak, the highest concerns for Nigerian businesses across different sectors were the regulatory, foreign exchange volatility and fiscal & monetary policy.
The Covid-19 came with the risk of financial loss arising from the emergence of the disease and its impact on businesses. This risk is fueled largely by the health crisis, the lockdown measures (local and international) that have been put in place to address the pandemic and the apprehension of investors. Consequently, the Covid-19 impact on Nigerian businesses can be classified into 3 major channels and they are the supply channel, the demand channel and the financial channel. 
In the 2017 fiscal year, the federal government spent N 1.8 trillion to service debts alone while it spent N1.4 trillion for capital investments i.e. debt servicing was more than capital expenses by over N400 billion. In 2019, the debt servicing to total implemented budget is around 40%, which poses problem for the country in the medium term. In dollar terms, the government has borrowed $35 billion that is, N10.68 trillion, about 65% increase since 2015 as at first quarter 2019, with the government paying as much as $18.9 billion (N5.806 trillion) for debt servicing between 2015 and 2018, an amount that is more than the total capital spending, more than 80 per cent of total deficit, and more than half of what the government borrowed, all within the same period. In fact, the total spending on debt servicing is far more than the combined budgets for education, healthcare and water resources within this period of 2015-2019. This means that the federal government is either borrowing to pay interests on debts that is service debt or paying more interests than spending on development.
Between 2011 and 2014, the average budgetary allocation to education was 10.4 per cent, but between 2015 and 2018, the average was 9.0 per cent. In 2018, the proposed budget on capital expenditure was N2.9 trillion as against the actual spending of N1.7 trillion: that is the government spent just 60 per cent of the proposed capital expenditure which has a multiplier effect on the standard of living index. In fact, education and health budgets have shrunk as most of the capital spending has not resulted in any significant improvement in facilities across educational and health institutions. According to Punch newspaper editorial (3/5/2019), between 2016 and 2019, a meagre N475.3 billion was allocated to the 21 federal teaching hospitals, an average of N22.6 billion for each hospital for the three years (or N7.5 billion per year for each hospital). According to the editorial, only N8 million is allocated to the OAUTH as monthly statutory running cost, while the teaching hospital spends N13 million on monthly electricity bill and N5 million to buy diesel. UNNTH, which was allocated N5.5 million monthly, spends N18 million on electricity. This means that health services will have to be commercialized the more in these health institutions, or quality of health service delivery will fall. This is already happening, as health service fees have increased in these institutions while two children wards in OAUTH have been closed.
While government claimed to want to build or rebuild 10,000 primary health institutions, which ordinarily should lead to massive employment of medical doctors and health workers, former health minister was recently quoted to have asked medical graduates to go into farming, while labour minister (publicly) stated that Nigeria had adequate number of doctors, even when doctor to citizens ratio is around 1:6400 as against WHO recommendation of 1:600. The main areas where the huge budgets have gone to are debt servicing and capital expenditure especially on government bureaucracy (office buildings, furniture, military hardware, etc.), roads and rails. Aside from the fact that many of these projects are funded through loans, the effects of these projects on the economy in terms of spending is minimal. According to the government's chest-beating data, more than 1,262 km of roads have either been constructed or rehabilitated in the three and half years of the present government. Also, more than N3 trillion has reportedly been spent on capital projects, with about half of this going to roads. Yet, according to government, this only generated less than 79,000 jobs mostly part-term or casual jobs associated with the construction industry. The effects of this 'huge' spending on roads and rails on other sectors of the economy has been minimal or infinitesimal. We can agree that the inconsistency between debt accumulation and its impact on economic performance can be attributed to misallocation of funds and high rate of corruption in Nigeria. In 2019,
Nigeria was ranked 146 out of 180 countries on corruption perception. Data from Transparency International showed that Nigeria's Corruption Perception Index increased through 2005 – 2019 period ending at 26 score in 2019 (CPI Score relates to perceptions of the degree of corruption as seen by business people and country analysts, and ranges between 100 (highly clean) and 0 (highly corrupt).